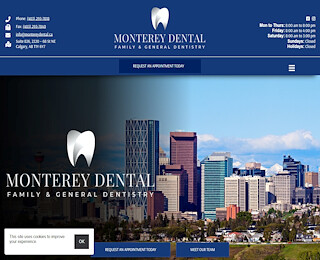 Are you experiencing a dental emergency? Monterey Dental Centre in Calgary encourages you to call their NE Calgary emergency dentist right away at 403-293-7818. They offer emergency dentistry for current patients and for anyone who cannot get in to see their dentist right away.
Monterey Dental is a proud provider of emergency dentistry services. They consider any dental situation that is painful or uncomfortable to be a dental emergency and one that should be treated promptly by a dentist. Don't waste precious time wondering if you are experiencing an emergency; if it hurts, it's an emergency!
If you're experiencing pain from a toothache that occurred suddenly or have been dealing with a lingering toothache, have a cracked, chipped or broken tooth, or have been in an accident involving your teeth or jaw, you should be treated as soon as possible. Monterey Dental's NE Calgary Emergency dentist reserves time in the daily dental schedule for emergencies, and will accommodate you whether you are a current patient or not.
When you call Monterey Dental Centre and explain that you are experiencing a dental emergency, they will provide you with temporary assistance while you are waiting to be seen by their dentist, with advice that will help you remain as comfortable as possible in the meantime. Some common reasons for patients to call the Monterey emergency number include:
- Knocked out teeth
- Chipped, cracked or broken teeth
- Lip or tongue that has been bitten
- One or more loose teeth
- An infection or abscessed tooth
- A toothache
- Loose restorations, such as crowns, fillings or bridges
- Pain and discomfort related to recent dental work
The best way to prevent dental emergencies from occurring is to see your dentist regularly for exams. This is the most important preventative action you can take. During your dental exam, the dentist will check for signs of weakened teeth, loosened or aging restorations ad early signs of inflammation that would indicate the presence of infection and the possibility of periodontal disease.
At Monterey Dental, their dental Hygienists strive to exceed your expectations by providing you with comfortable dental hygiene appointments while educating you about your oral health. Your exam will include an oral cancer screening and a detailed evaluation of your current oral health.
Another important preventative action you can take to avoid a dental emergency is to wear a properly fitting mouthguard while playing contact sports. A large percentage of dental injuries are sport-related, making a mouthguard a sensible investment in the health of your teeth.
Typical dental injuries related to sports include broken teeth, knocked-out teeth, injured cheeks or tongues and broken jaws. The NE Calgary emergency dentist recommends that anyone who participates in athletic activities should protect their smile with a high quality, proper fitting sports mouthguard.
Although preventative action may prevent dental emergencies from occurring in the future, if you are experiencing a dental emergency right now, you should call Monterrey Dental Centre immediately at 403-293-7818. They'll be happy to get you in as soon as possible to be seen by the dentist. Call right now.
NE Calgary Emergency Dentist